Year 7 stude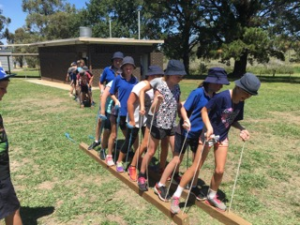 nts experience studies in eight Learning Areas. Core subjects operate all year. These include Maths, English, Science, Humanities, Indonesian, Music, Information Technology and Health/Physical Education. Non-core subjects run for one semester. These include: Art, Drama, Food and Technology. This enables students to have experienced all subjects before choosing electives for Year Eight.
Students have 18 periods of core subject with one main teacher. Within the core units students will study English, Mathematics, Science and Humanities. The Year 7 team are based in the B wing of the Faithfull St Campus.
The Year 7 program aims to:
– ease the transition from Year 6 to Year 7
– further develop relationships integral to learning
– increase student engagement in learning
– develop critical thinking skills
In 2017, we introduced the new Year 8 program, after the successful implementation of the revamped Year 7 program the previous year. The new Year 8 program continues the students journey through our newly developed Middle Years program, that involves teachers working collaboratively to improve students outcomes. Students experience seven core Learning Areas that run the entire year. These include; Maths, English, Science, Humanities, Health & PE, Music & Discovery. Students also select 4 electives across the two semesters which enrich the students learning through the subjects of; Art, Drama, Food Technology, Outdoor Education, Woodwork/Woodturning, Automotive, Textiles, Indonesian, Visual Communication, Plastics/Metals and CSI Science. This variety of subjects enables students to have a broad range of experiences across all Learning Areas before choosing further electives for Year 9.
Discovery is a newly developed program that is aimed at addressing inter-domain capabilities by making links between the knowledge and skills within curriculum areas through integrated units of study. Within their learning programs students will have the opportunity to draw upon the links between their subject areas and to delve deeper into the big questions related to their learning. It would also provide the opportunity for the inter-domain capabilities to be addressed.
Advisory
The Year 9 Advisory Program is an Inquiry- based learning program where students explore aspects of Humanities and Science domains. The Humanities area incorporates History, Geography, Economics, Civics and Citizenship and the Science part incorporates Biological Science, Chemical Science, Earth and Space and Physical Science. Students also complete a Research Project in which students identify and research questions to develop their knowledge and obtain and explain evidence to support questions. Then they present their Research Project using new ICT skills to their parents and teachers.
Future Makers Program
Our Year 9 students participate in a very exciting new program being conducted at 15 Mile Creek Outdoor School. The 'Future Makers' this program has been  developed by experts, and is aimed at developing personal, social and critical
thinking skills in our students who are the Future Makers of their generation. The program forms an integral part of the Year 9 curriculum and continues across a full term of schooling. There are several components to the program – 15 Mile Creek Camp staff attend the college to deliver 10 lessons prior to the residential camp, students then attend the camp for 12 days (including a weekend) of intense instruction and activities to develop their personal and leadership skills, then 15 Mile Creek Camp staff follow up with another 6 lessons back at the College.
Careers Program
Benalla P-12 College delivers an intensive, personalised careers program for all Year 9 students designed to improve student aspirations for successful Year 12 completion and beyond. Students develop an 'Achievement Portfolio' which includes a Career Action Plan, employability skills audit and evidence of their achievements. Students undertake mock job interviews which involve all elements of the job application process, including selection of appropriate clothing. This work, together with a record of activities from a personal presentation session held in the College's VET Hairdressing Salon, is then presented to a family member during Year 10 course selection. The portfolios are stored in the Careers Room and are designed to be revisited over the next 3 years.